Visual Tour of Our Nursery
Highland Meadow Nursery was incorporated in 1995, but prior to its official opening, Dan Staley began to envision how a wholesale nursery could remain successful even through the thick and thin of market variables. His dream and preparation began more than 20 years prior to opening his own nursery. This was facilitated by active involvement in a myriad of different companies; taking time to observe styles and strategies and adopt those worthy of assimilation.
Today, over 20 years later, Highland Meadow Nursery remains a high quality, privately owned and operated 65 acre wholesale nursery. We are located 20 miles south of Portland,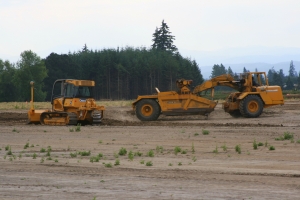 Oregon; where we benefit from the world renowned Willamette Valley growing climate. We are also in the process of expanding our nursery to serve you even better.
Our purpose is to provide high quality plants and build lasting relationships with our customers. We serve other industry professionals who possess a valid Nursery License.
At Highland Meadow Nursery we consistently and aggressively evaluate our practices and techniques. This allows us to, thoughtfully, make adjustments to growing process, plant selection, availability, etc.; in turn, providing recompense for both Highland Meadow Nursery and our valued customers alike.
Highland Meadow Nursery is founded on several fundamental principles. First and foremost is; understanding the relationship with our customers and knowing that our customer's success will reflect our own. With this in mind, our business philosophy and practice are further founded on:
• being creative and pro-active in incorporating innovative production methods
• consistent observation of facilities and processes; taking action on sensible improvements to both the grounds and equipment
• extensive inventory monitoring, forecasting and planning
• an ongoing open exchange of ideas with the personnel between Highland Meadow Nursery and our customers
• overall emphasis on response time with regards to any issue
Unwavering commitment and determination in adherence to Highland Meadow Nursery's core values have guided us through past challenges and will continue to lead us through the future. By doing this, our commitment to provide the desired value that we are to our customers, remains healthy.
It is to that end that we aspire.